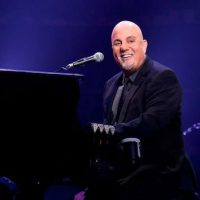 Credit: Kevin Mazur
Billy Joel is gearing up to play his 100th show at New York's Madison Square Garden on Wednesday, and he's still packing in the crowds. The musician tells Parade why he thinks he's been so successful at the venue.
"I think that's luck," he says. "I'm from New York. Madison Square Garden's my hometown venue. It was natural for them to pick me to play there. We sell [seats] in the round every night. A lot of acts don't play the back [of the arena], just the front. We play it all."
Not to mention the fact that fans connect to him on a human level.
"I'm an unlikely candidate for a rock star," he says. "I don't look like a rock star. I'm like the eternal underdog."
Joel adds, "In my songs' lyrics, there's a lot of acknowledgment that I'm a screw-up, you know — I'm human. I'm as lost as you are. Like you, I'm just trying to find my way. I guess people like that."
Not only is Wednesday night's show the Piano Man's 100th performance at MSG overall, it's his 54th consecutive show at the venue as part of his long-running residency there. He's been playing one show a month at the Garden since his residency began in January 2014.
Copyright © 2018, ABC Radio. All rights reserved.