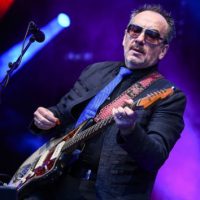 Tabatha Fireman/RedfernsOn his website, Elvis Costello has revealed that under advice of his doctor, he's canceling his remaining tour dates in Europe, following apparently successful cancer surgery.
"Six weeks ago my specialist called me and said, 'You should start playing the Lotto,'" Costello writes. "He had rarely, if ever, seen such a small but very aggressive cancerous malignancy that could be defeated by a single surgery."
Costello says that, at first, he was "elated and relieved" that the tour could go ahead, but he soon learned otherwise.
"Post-surgical guidelines for such surgery, recommend three weeks to four weeks recovery depending on whether you are returning to a desk job or an occupation that involves physical work or travel," he explains. "It was impossible to judge how this…would line up with the demands on a traveling musician."
Costello continues, "My apologies go to our ticket holders in Manchester, Pula, Graz, Vienna, Tysnes and Rattvik but I would rather disappoint our friends there by not appearing than in pressing on with a show that is compromised and eventually puts my health at risk."
While Costello doesn't specify what surgery he'd had, one clue could be his calling out his male fans, saying, "Gentleman, do talk to [your] friends — you'll find you are not alone — seek your doctor's advice if you are in doubt or when it is timely and act as swiftly as you may in these matters. It may save your life. Believe me, it is better than playing roulette."
Elvis also shares some "more optimistic news," that he and his backing band The Imposters had finished a "magnificent new record," which he believes would be released October 1.
Before closing with, "Yours through music," Elvis vows he'll return to the stage "at the soonest opportunity."
Copyright © 2018, ABC Radio. All rights reserved.