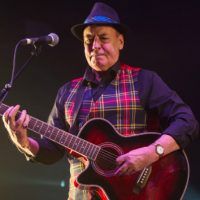 Brian Rasic/WireImage
Alan Longmuir, founding member and bass player for '70s Scottish pop sensations The Bay City Rollers, has died, according to a statement from his family. He was 70.
The statement, posted on Longmuir biographer Liam Rudden's Twitter page, said that Alan "passed away peacefully, surrounded by family." Describing him as "an extraordinary man with an extraordinary heart," the statement went on to say that Longmuir considered himself as "just a plumber from Edinburgh who got lucky." The family asked for privacy to mourn his death.
The BBC reports that Longmuir had been on vacation in Mexico when he became ill, and had to be brought home by air ambulance three weeks ago.
Bay City Rollers frontman Les McKeown told the BBC that he'd visited Longmuir in the hospital, adding, "[He] was a true gentleman and a brilliant musician. He was a brilliant guy, never had a bad word to say about anyone. We are all going to miss him so much. We have been in tears…the last 48 hours have been really bad emotionally."
In the '70s, The Bay City Rollers were global teen idols, inciting "Rollermania" among their screaming fans, nicknamed "The Tartan Horde." The band sold 120 million records, mostly in the U.K., the U.S., Australia and Japan.
The band's biggest hit was 1975's #1 smash "Saturday Night." Longmuir left the group a year later due to the pressures of success. He subsequently participated in reunions over the years. His brother, drummer Derek Longmuir, remained in the band until 1981.
Copyright © 2018, ABC Radio. All rights reserved.