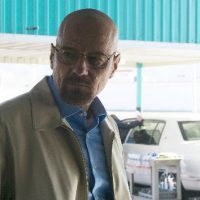 AMC/Ursula Coyote(LOS ANGELES) — At San Diego Comic-Con in July, Bryan Cranston, Aaron Paul, Bob Odenkirk, Anna Gunn, Giancarlo Esposito, Dean Norris, Betsy Brandt, Jonathan Banks, and RJ Mitte — otherwise known as the main cast of AMC's award-winning show Breaking Bad — will reunite for a Q&A panel with the show's creator Vince Gilligan.
The gang also got back together for a cover feature for Entertainment Weekly, which broke the Comic-Con news.
The event will commemorate the 10th anniversary of the show, which starred Cranston as milquetoast high school science teacher Walter White. After being diagnosed with cancer, White starts making and selling crystal meth to provide for his family, and eventually becomes a murderous, immoral drug kingpin.
The series, which wrapped up with a bullet-ridden finale in 2013, has been called one of the best TV shows ever made. It earned two Outstanding Drama Series Emmys, and four best actor trophies for Cranston. Aaron Paul won three supporting actor Emmys for playing White's former student and partner-in-crime Jessie Pinkman, and Gunn, who played White's wife Skyler, won two best supporting actress Emmys.
Copyright © 2018, ABC Radio. All rights reserved.