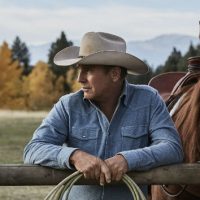 Paramount Network(NEW YORK) — Kevin Costner is no stranger to Westerns, starring in films like Dances with Wolves and Silverado. Now, he's taking on the modern-day Western in the new Paramount Network series, Yellowstone.
Costner plays John Dutton, a fifth-generation rancher defending his sprawling Montana property from land developers while dealing with dysfunctional relationships with his four adult children. He tells ABC Radio this project "stands alone" from the other Westerns he's done, thanks to the writing by Taylor Sheridan, who also directed the series' 10 episodes, and its authentic Montana setting.
"We're shooting in a place called the Bitter Root Valley, which is where Lewis and Clark went through, so you realize so much history and so much beauty," Costner says. "I kinda think of it as the Garden of Eden."
He adds, "For me, it just stood alone in terms of its writing. Where it's being shot is just kind of like the icing on the cake."
As beautiful as the landscape may be, Dutton has to come to terms with the fact that not all his children may want a future on the ranch.
"The generations that have come before, they never thought that there was anything in front of them other than the ranch," Costner says. "But [Dutton's] children see how big the world is and being stuck on a ranch — no matter how beautiful [he] think[s] it is — is maybe not necessarily what they want."
Yellowstone premieres tonight at 9 p.m. ET on the Paramount Network.
Copyright © 2018, ABC Radio. All rights reserved.