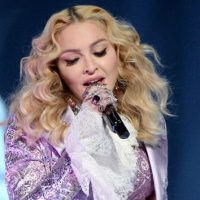 Jeff Kravitz/Getty Images via ABCIn April, Madonna teased on her Instagram and Twitter that she was working on new songs with Mirwais, one of the producers of her highly successful 2000 album, Music. While she kept including his name in hashtags, she didn't officially confirm that the two were back together…until now.
On Thursday, Madonna posted a photo of herself and the producer together, with the caption "Session #3 finished with Disco God Mirwais," and adding the hashtags "#music #method #magic #mothership @mirwais.official."
Music, the pair's first collaboration, spun off off the #1 title track, and follow-up hits "What It Feels Like for a Girl" and "Don't Tell Me."
Mirwais also co-produced and co-wrote nearly all of Madonna's next album, 2003's American Life, and worked on a number of songs on her 2005 disc, Confessions on a Dance Floor.
Madonna's most recent album was 2015's Rebel Heart.
Copyright © 2018, ABC Radio. All rights reserved.