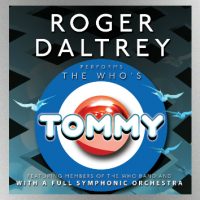 Courtesy of Roger DaltreyTonight in Bethel, New York, and during the next month in nine other U.S. cities, Who fans will get to see and hear Roger Daltrey perform the band's 1969 rock opera Tommy live with accompaniment from an orchestra.
The tour, appropriately dubbed Roger Daltrey Performs The Who's Tommy, runs through a July 8 show in Cuyahoga Falls, Ohio, and features the legendary singer backed by members of The Who's touring band, as well as by a different orchestra at each venue along the way.
"It's a long time since I did something with an orchestra," Daltrey tells ABC Radio. "It's always a challenge, but I love Tommy…It's a great piece of work."
Roger says that as far as he's concerned, Tommy can stand alongside any traditional classic opera.
"I've sat through a lot of operas of the classical type [over the years], the grand operas. And I've come to the conclusion that Tommy is the best opera ever written," he declares with a chuckle. "Certainly lyrically."
Daltrey tells ABC Radio that he finds it exciting to be playing with different orchestras at the various venues, though he admits it can be challenging, since he gets "very limited rehearsal" with them prior to each concert.
"It's a-wing-and-a-prayer stuff," he adds.
As for how he'll approach performing Tommy this time around, Roger explains, "We're gonna do it as it was written…as I did when I toured it in 2011-12. I played it note for note as it's written, as though it was…a classical piece."

After the orchestral tour, Daltrey has five additional U.S. shows at which he'll play a mix of classic Who songs, lesser-known gems by the band and selections from his solo career.
Here are all of Roger's upcoming solo dates:
6/8 — Bethel, NY, Bethel Woods Center for the Arts (with the Hudson Valley Philharmonic Orchestra)
6/10 — Vienna, VA, Wolf Trap (with the Wolf Trap Orchestra)
6/12 — Vienna, VA, Wolf Trap (with the Wolf Trap Orchestra)
6/15 — Lenox, MA, Tanglewood Music Shed (with the Boston Pops Orchestra)
6/17 — New York, NY, Forest Hills Stadium (with the New York Pops)
6/19 — Philadelphia, PA, Mann Center for the Performing Arts (with the Chamber Orchestra of Philadelphia)
6/23 — Highland Park, IL, Ravinia Festival (with the Ravinia Festival Orchestra)
6/25 — Highland Park, IL, Ravinia Festival (with the Ravinia Festival Orchestra)
6/27 — Nashville, TN, Ascend Amphitheater (with the Nashville Symphony Orchestra)
6/30 — Canandaigua, NY, CMAC (with an as-yet-unannounced orchestra)
7/2 — Kettering, OH, Fraze Pavillion (with the Dayton Philharmonic Orchestra)
7/5 — Rochester Hills, MI, Meadow Brook Amphitheater (with the Detroit Symphony Orchestra)
7/8 — Cuyahoga Falls, OH, Blossom Music Center (with the Cleveland Orchestra)
7/10 — Verona, NY, Turning Stone Resort & Casino*
8/10 — Saratoga, CA, The Mountain Winery*
8/12 — Paso Robles, CA, Vina Robles Amphitheatre*
8/15 — San Diego, CA, Bayside Summer Nights*
8/18 — Indio, CA, Fantasy Springs Event Center*
* = no orchestra.
Copyright © 2018, ABC Radio. All rights reserved.