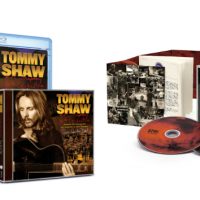 Eagle Rock Entertainment; Alpha Dog 2T/UMeStyx fans will soon have much to celebrate soon: Two new releases related to the band will be arriving this summer.
First up will be Sing for the Day!, a new concert album and video documenting a 2016 solo show that Styx singer/guitarist Tommy Shaw played with Cleveland's Contemporary Youth Orchestra at the city's Waetjen Auditorium. The release will be available June 29 on DVD, Blu-ray, CD and in digital formats.
Shaw's concert set included some of his best-known Styx compositions, as well as selections from his solo career and his '90s supergroup, Damn Yankees. The aforementioned orchestra, which is made up of high-school-age students, previously performed with Styx in 2006.
The Blu-ray version of Sing for the Day! also features bonus content, including high-res audio of four songs Shaw and the orchestra recorded that weren't included in the concert video, plus a photo slideshow and behind-the-scenes and rehearsal footage.
The second release is a deluxe CD/Blu-ray edition of Styx's 2017 concept album, The Mission, that will hit stores on July 27. The CD features the original album, while the Blu-ray boasts a 5.1 Surround Sound version of the record accompanied by visuals for each song based on the album's artwork. The latter disc also includes a making-of documentary, four music videos and three high-res audio-playback modes.
Meanwhile, AXS TV will present a day-long Styx programming block Saturday, June 30. It'll include screenings of an episode of Dan Rather's The Big Interview with Shaw, James "JY" Young and Lawrence Gowan; the Styx: Live at the Orleans Arena Las Vegas and Sing for the Day! concert videos; and more.
Here's the Sing for the Day! track list:
"Overture"
"Girls with Guns"
"Too Much Time on My Hands"
"Fooling Yourself"
"Diamond"
"Crystal Ball"
"Boat on the River"
"Sing for the Day"
"Renegade"
"Man in the Wilderness"
"Come Again"
"High Enough"
"Blue Collar Man"
Blu-ray bonus songs:
"Down That Highway"
"The Great Divide"
"I'll Be Coming Home"
"The Night Goes On"
Copyright © 2018, ABC Radio. All rights reserved.