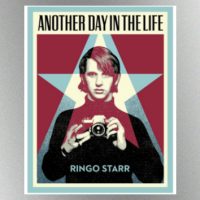 Shepard Fairey/Genesis PublicationsIf all you want is more photographs by Ringo Starr, you're in luck: A new coffee-table book called Another Day in the Life, featuring previously unseen images taken by the ex-Beatles drummer, will be published this fall.
The book also includes Starr's captions and anecdotes for each picture. Among the images: the presentation of a Grammy Lifetime Achievement Award to Starr and his return to the Plaza Hotel in New York City 50 years after The Beatles stayed there during their first trip to the U.S.
Some of Ringo's musical friends and associates appear in the pics, among them Paul McCartney, Joe Walsh and members of the All Starr Band. Other photos include some quirky, observational images Ringo snapped during trips to various cities around the world.
"I love taking photos of random things, and seeing how they all fit together," Starr says in a statement. "Whether it is at home or on the road, certain things catch my eye — and when I see something that interests me, that's the emotion of it, and I want to capture it."
The cover of Another Day in the Life was designed by renowned graphic artist Shepard Fairey. The book is a follow-up to Ringo's 2013 publication, Photograph. Visit RingoBook.com for more details.
Starr announced plans for the book at a press conference on Wednesday in Paris, where he and his All Starr Band's launched their first European tour in seven years. The current leg runs through a July 11 show in Rome, and also includes a June 23-24 engagement in Tel Aviv, Israel.
The group will launch a month-long U.S. tour on September 1 in Tulsa, Oklahoma.
Copyright © 2018, ABC Radio. All rights reserved.