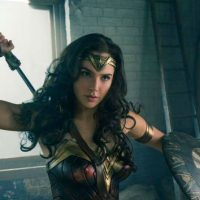 © 2017 WARNER BROS. ENTERTAINMENT INC. AND RATPAC ENTERTAINMENT, LLC(LOS ANGELES) — The sequel to last year's blockbuster hit Wonder Woman isn't due out in theaters until 2019, but filmmakers are already sharing hints about what fans can expect.
Director Patty Jenkins and the movie's executive producer Geoff Johns each shared a visual on their social media accounts that may hint at when the film is set.
The visual reads, "WW84," meaning the film could be set in 1984.
Fans may recall that the initial Wonder Woman was set in 1917 amid World War I. This time, however, the film will take place during the Cold War.
According to The Hollywood Reporter, the sequel, hitting theaters on Nov. 1, 2019, will introduce a new villain — Cheetah, portrayed by Kristen Wiig.
Copyright © 2018, ABC Radio. All rights reserved.