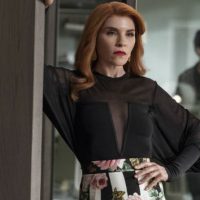 AMC(NEW YORK) — Former E.R. and The Good Wife star Julianna Marguiles can be seen tonight in the debut of AMC's dark comedy Dietland. She plays Kitty Montgomery, the flame-haired editor-in-chief of the women's magazine Daisy Chain.
Unlike her other famous characters, Marguiles says Montgomery has basically has no moral center.
"For me it was just delicious to be able to shed my skin and go for it," she tells ABC Radio, adding, "It's a satire, it's dark comedy…and a character no one has ever seen me do. …I wouldn't normally never get offered something like that."
Margulies' character, who — like the industry — is appearance-obsessed, hires an overweight writer, played by Joy Nash, to ghost write the editor's responses to readers' letters. A big part of the show is seeing the world through an overweight person's eyes, and in Monday night's pilot episode, there are lots of incidents of fat shaming directed at Nash's character, Plum Kettle.
"[I]t's got to stop," Marguiles says of the unfortunate reality of the character's situation. "And I think that's the bigger story here — which is what is wrong with us, that we can't have any kind of understanding or empathy or compassion. Rather, we have judgment."
On a lighter note, Marguilies explains that streaming services have re-ignited a new generation of fans of her first hit show, E.R.
"So I've been off the show for 18 years…Suddenly there's this younger generation coming up going 'Wait! Are you Nurse Hathaway?' — And it's this whole resurgence of a life I lived almost 20 years ago. And it's remarkable to see that that show is aging so beautifully, that it doesn't really age at all."
Dietland premieres at 9 p.m. Eastern on AMC.
Copyright © 2018, ABC Radio. All rights reserved.