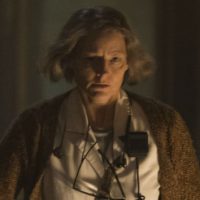 Matt Kennedy / Distributor: Global Road Entertainment(NEW YORK) — Hotel Artemis opens this weekend. A dark comedic thriller set in riot-stricken 2028 Los Angeles, it's written and directed by Drew Pearce, who co-wrote the blockbusters Iron Man 3 and Mission: Impossible: Rogue Nation.
Oscar-winner Jodie Foster as The Nurse, who runs a members-only hospital for criminals. She's always in control, until a night that sees all of these combustible criminal characters — as well as an injured cop, played by Jenny Slate — under Artemis' roof.
"Weirdly, the biggest influence on the movie is actually…Casablanca," Pearce tells ABC Radio. "…you know, this group of people, all of whom are on the kind of scale of bad guys…trapped in a place with…war going on outside, and the intrigue that occurs inside."
Pearce explains getting Jodie Foster to star was a surprise. "Jodie somehow got her hands on the script…in a way that she will still not tell us how…And when oddly, Jodie Foster calls you out of nowhere, with a script that you didn't even know was there in the world, you take that call."
Foster, who's 55, was excited to play the nearly 70-year-old character, says Pearce. "[S]he said…she thinks it's unfair that 'the boys' like Daniel Day-Lewis…all get to play dress up and they get to play real characters, and the girls always just have to play a version of themselves. …She wants to stretch her legs." (AUDIO IS ABC 1-ON-1)
Hotel Artemis also stars Dave Bautista as The Nurse's right-hand man, Everest. The cast also includes Jeff Goldblum as a criminal kingpin, This Is Us Emmy-winner Sterling K. Brown, Always Sunny's Charlie Day as a smarmy arms dealer, and Star Trek: Beyond's Sofia Boutella as a mysterious assassin. It's in theaters Friday.
Copyright © 2018, ABC Radio. All rights reserved.