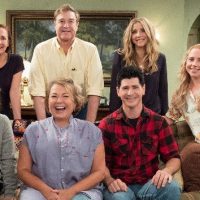 ABC (LOS ANGELES) — ABC has cancelled its hit revival Roseanne after the show's eponymous star tweeted a racist comment about longtime Barack Obama White House advisor Valerie Jarrett.
In a now-deleted tweet, Barr said, "muslim brotherhood & planet of the apes had a baby=vj." Jarrett is black.
"Roseanne's Twitter statement is abhorrent, repugnant and inconsistent with our values, and we have decided to cancel her show," said ABC Entertainment President Channing Dungey in a statement early Tuesday afternoon. Shortly thereafter, Disney Chairman and CEO Bob Iger retweeted Dungey's statement, adding, "There was only one thing to do here, and that was the right thing." Disney is ABC's parent company.
Barr apologized earlier Tuesday for the tweet, writing, "I apologize to Valerie Jarrett and to all Americans. I am truly sorry for making a bad joke about her politics and her looks. I should have known better. Forgive me-my joke was in bad taste." She then tweeted, "I apologize. I am now leaving Twitter."
But Barr's apology had little apparent affect. There was immediate backlash for her comments, including from Sara Gilbert, who played Roseanne's onscreen daughter, Darlene, and who helped get the revival off the ground.
"This is incredibly sad and difficult for all of us, as we've created a show that we believe in, are proud of, and that audiences love — one that is separate and apart from the opinions and words of one cast member," Gilbert tweeted. Earlier, she had called Roseanne's comments, "abhorrent," and noted, "I am disappointed in her actions to say the least."
Before the cancellation, Wanda Sykes, took to Twitter to say she wouldn't be returning to the show, on which she'd worked as a consulting producer and co-writer. Sykes wasn't the only celebrity to sound off on Roseanne's comments.
Oscar-nominated actor Don Cheadle posted, "you can take @RoseanneOnABC out of racism but you can't take the racism out of @therealroseanne."
The Reverend Al Sharpton called Barr's "comparison…racist and inexcusable" and urged ABC to "take action NOW!"
Rosie O'Donnell tweeted, "i love roseanne quite a bit / the comment roseanne tweeted was racist and childish and beneath her best self / she has apologized / twitter is a dangerous place."
ICM, the powerhouse Hollywood talent agency, has also dropped Barr as a client. An email to employees Tuesday obtained by ABC News states: "We are all greatly distressed by the disgraceful and unacceptable tweet from Roseanne Barr this morning. What she wrote is antithetical to our core values, both as individuals and as an agency. Consequently, we have notified her that we will not represent her. Effective immediately, Roseanne Barr is no longer a client."
Copyright © 2018, ABC Radio. All rights reserved.