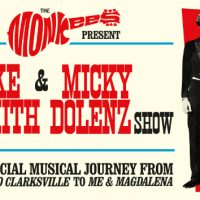 Courtesy of Rhino EntertainmentWhen Mike Nesmith and Micky Dolenz launch their first-ever tour as a duo next week, Monkees fans can expect to be treated not only to plenty of the band's hits, but also to songs that the group never performed live.
Dolenz tells Rolling Stone that preparing the rarities for the trek, dubbed The Monkees Present: The Mike and Micky Show, was a hard but rewarding task.
"It's been a lot of work because Nez is quite the perfectionist," explains Dolenz. "But it's so exciting to hear these songs done in their original context and harmonies."
Among the Nesmith-penned gems the duo has dusted off for the tour are "You Told Me" from the 1967 album Headquarters and a pair of tunes recorded during sessions for 1969's Instant Replay: "Some of Shelly's Blues" and "St. Matthew."
Mike and Micky also are planning to perform some songs from The Monkees' 2016 album, Good Times!, as well as Nesmith's "Different Drum," which Linda Ronstadt's old band The Stone Poneys scored a hit with in 1967.
The idea for The Mike and Micky Show tour dates back to the days during the making of The Monkees TV show when Dolenz and Nesmith bonded on set while waiting for their scenes to be filmed.
"[W]e'd just set up on some of the set furniture and sing songs while the crew set up lights," Nesmith explains.
The trek itself came about after Monkees member Peter Tork told Dolenz he wouldn't be available to tour with the band for the foreseeable future because he wanted to focus on a tribute project to legendary bluesman Lead Belly, which he was doing with his own group, Blue Suede Shoes.
The Monkees Present: The Mike & Micky Show kicks off June 1 in Chandler, Arizona. Here are all of the dates:
6/1 — Chandler, AZ, Chandler Center for the Arts
6/2 — Los Angeles, CA, The Orpheum
6/3 — San Diego, CA, Humphrey's
6/5 — Anaheim, CA, The Grove
6/6 — Saratoga, CA, The Mountain Winery
6/8 — Stockton, CA, Bob Hope Theatre
6/9 — Stateline, NV, Harrah's Lake Tahoe
6/12 — Denver, CO, Paramount
6/14 — Chicago, IL, Copernicus Center
6/15 — Huber Heights, OH, Rose Music Center
6/16 — Cleveland Heights, OH, Cain Park
6/18 — Toronto, ON, Canada, Sony Centre
6/19 — Kitchener, ON, Canada, Centre in the Square
6/21 — Glenside, PA, Keswick Theatre
6/22 — New York, NY, Beacon Theatre
6/23 — Huntington, NY, The Paramount
6/25 — Red Bank, NJ, Count Basie Theatre
Copyright © 2018, ABC Radio. All rights reserved.