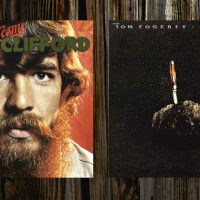 Craft RecordingsA pair of long-out-of-print 1972 solo albums by founding Creedence Clearwater Revival members Doug Clifford and Tom Fogerty will be reissued on June 22.
The discs, Clifford's solo debut, Doug "Cosmo" Clifford, and Fogerty's Excalibur, will be available on 180-gram vinyl and also will be released for the first time as high-res audio downloads and streams.
Doug "Cosmo" Clifford was the CCR drummer's first and only solo album. The 11-track collection features eight original tunes, plus covers of The Lovin' Spoonful's "Daydream," The Sir Douglas Quintet's "She's About a Mover" and The Spencer Davis Group's "I'm a Man."
Other musicians contributing to the project included Creedence bass player Stu Cook on rhythm guitar, famed Stax session bassist Donald "Duck" Dunn, future Doobie Brother John McFee on lead guitar and the Tower of Power horn section.
"Making this record was a blast, because it was a superstar line-up," recalls Clifford. "I told everyone that I was open to any ideas they might have. That got everybody involved in the process. The camaraderie was great, there was no pressure and that got the best performances from everyone."
Excalibur was the second of five solo albums that late CCR rhythm guitarist Tom Fogerty released after exiting the band in 1971. The 10-track collection includes the talents of Grateful Dead guitarist Jerry Garcia and frequent Garcia collaborator, keyboardist Merl Saunders.
Tom's four other albums — 1972's Tom Fogerty, 1974's Zephyr National and Myopia, and 1981's Deal It Out — also will be reissued as high-res audio downloads and streams on June 22.
A limited number of vinyl bundles including Excalibur and a signed copy of Doug "Cosmo" Clifford can be pre-ordered at CraftRecordings.com.
Here's the Doug "Cosmo" Clifford track list:
Side One
"Latin Music"
"Regret It (For the Rest of Your Life)"
"Guitars, Drums and Girls"
"I'm a Man"
"She's About a Mover"
"I Just Want to Cry"
Side Two
"Get Your Raise"
"Daydream"
"Take a Train"
"Death Machine"
"Swingin' in a Hammock"
And here's the Excalibur track list:
Side One
"Forty Years"
"Black Jack Jenny"
"Rocky Road Blues"
"Faces, Places, People"
"Get Funky"
Side Two
"Sick and Tired"
"Sign of the Devil"
"Straight and Narrow"
"Next in Line"
"(Hold On) Annie Mae"
Copyright © 2018, ABC Radio. All rights reserved.