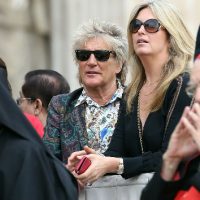 Franco Origlia/Getty ImagesIt turns out that even rock superstars need to cough up big bucks to enjoy certain once-in-a-lifetime experiences.
Rod Stewart and his wife Penny Lancaster are currently in Rome, where they traveled to the Vatican and got to meet Pope Francis and shake his hand. But the couple didn't get to meet the Holy Father because Rod's a world-famous rock star: They were able to do it because they paid for the privilege at a charity auction.
Captioning a photo of herself and Rod meeting Pope Francis, Penny wrote, "Special moment as we clasped hands together #popefrancis. All made possible by our charity bid 'Pope experience' at the #pinktober event for The Caron Keating Foundation." The foundation raises funds for various cancer charities.

According to Hello magazine, Rod and Penny attended a fundraiser for the foundation in October of 2017, where Rod paid 15,000 pounds — about $20,000 — for the chance to watch a Papal Mass from a VIP area right next to the pulpit, and then be personally greeted and blessed by the Pontiff.
Penny posted a photo of their view of the pulpit on a rainy Wednesday, with the caption, "The heavens open[ed] and so did the umbrellas and our hearts. The Pope asked us to pray for him and we [were] presented with blessed rosary's [sic] and celebrated with a traditional Italian lunch."
Another photo was captioned, "An unforgettable morning, totally blessed by #popefrancis."
No word on whether Pope Francis actually knows who Rod is, or if he's a fan.

Copyright © 2018, ABC Radio. All rights reserved.