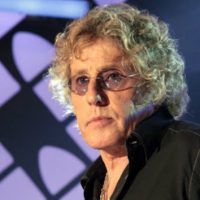 ABC/Richard CartwrightThe #MeToo movement has raised awareness of rampant sexual harassment in the entertainment industry, but The Who's Roger Daltrey says he doesn't believe the issue is a problem within the music business, at least among well-known rock artists.
"Why would any rock star need to push themselves on women?" Daltrey poses in a new interview with The Daily Mail's Event magazine. "Usually it's the other way around. I'd like to have [one British pound] for every woman that s****s my a**. Mick Jagger would be a billionaire out of it."
Despite various allegations of inappropriate behavior that have been leveled at many rock artists over the years, Roger adds, "If it was going to be in the rock business, it would've been out by now. It would've been out a long time ago."
Continuing on the topic, the 74-year-old Rock & Roll Hall of Famer says, "I find this whole thing so obnoxious. It's always allegations and it's just salacious crap."
Daltrey compares the situation to the allegations against his band mate Pete Townshend, who was arrested in 2003 and charged with accessing child pornography online, then cleared of those charges soon after.
"He didn't have anything on his computer at all," Daltrey insists. "They never found one f***ing thing on 35 computers. It's a joke."
Daltrey also talks about his upcoming solo album, As Long As I Have You — due out June 1 — which includes some covers of soul tunes that The Who played early in the group's career.
"I was always a soul singer," Daltrey maintains. As for the material on the new record, he notes, "I'm singing the same words on the songs that we did all those years ago, but now they're full of life. And full of living."
Copyright © 2018, ABC Radio. All rights reserved.