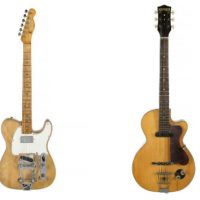 Courtesy of Julien's AuctionsHistoric guitars that belonged to The Band's Robbie Robertson and the late George Harrison both sold at a New York City memorabilia auction over the weekend for more than $400,000.
Robertson's 1965 Fender Telecaster, which Bob Dylan played frequently during his 1966 "going electric" tour, fetched $490,000 on Saturday at the "Music Icons" sale organized by Julien's Auctions and hosted by the Hard Rock Café. The guitar also was used by Dylan and Robertson at various famous recording sessions and was played by Robbie at Woodstock and other historic concerts.
Meanwhile, a Hofner Club 40 model guitar that belonged to Harrison from 1959 to 1966, and was the first electric guitar that he ever owned, went for $430,000 after being estimated to sell for between $200,000 and $300,000.
Other items that brought in big bucks at the auction included an embellished white leather belt worn onstage by Elvis Presley, which sold for $354,400; a black leather ensemble and yellow shirt Michael Jackson wore in the 1988 film Moonwalker, which fetched $217,600; a gold, silver and leather belt belonging to Jackson, which went for $179,200; and a 1968 Fender Telecaster guitar prototype custom made for Elvis, which fetched $115,200.
The Saturday sale was preceded Friday by another "Music Icons" auction focusing solely on items from the life and career of the late Prince. The most expensive collectible at that event was Prince's custom-made Yellow Cloud guitar, which sold for $225,000, and an electric-blue outfit that the entertainer wore while performing with Lenny Kravitz during a 1999 New Year's Eve event at his Paisley Park residence, which brought $108,800.
Visit JuliensAuctions.com and JuliensLive.com to check out the full results of both sales.
Copyright © 2018, ABC Radio. All rights reserved.