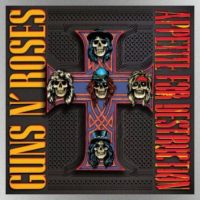 Geffen/UMe Guns N' Roses has premiered the previously unreleased video for "It's So Easy," a track from the band's legendary 1987 debut album, Appetite for Destruction.
The clip was filmed in 1989 at the Cathouse club in Hollywood and showcases GNR's energetic, sweaty live show. It's currently streaming exclusively via Apple Music, but you can watch a preview for it now on iTunes.
The "It's So Easy" footage was dug up in preparation of GNR's massive Appetite for Destruction reissue, which features the previously unreleased single "Shadow of Your Love." The collection arrives in various formats on June 29.
Guns N' Roses will resume their Not in This Lifetime tour, featuring the reunited Axl Rose, Slash and Duff McKagan, in Europe this June.
Copyright © 2018, ABC Radio. All rights reserved.