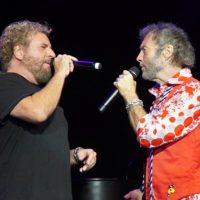 Courtesy of AXS TVPaul Rodgers, of Bad Company and Free fame, and Todd Rundgren will be featured on the latest episode of Rock & Roll Road Trip with Sammy Hagar, airing on AXS TV this Sunday, May 20.
The program captures some of the action from the 2018 edition of the star-studded Rock Legends Cruise, which the Red Rocker hosted.
In a preview of the show, we see Rodgers welcome Hagar onstage for a performance of Bad Company's "Rock and Roll Fantasy." The clip also includes an interview segment in which Rodgers tells Hagar about how he views his music career.
"I don't really even think of it as a career," Paul maintains. "It's just like life is music and music is life."
In another preview, Rundgren talks about the studio he built because he "wanted to change the rules of recording" for himself.
Rock & Roll Road Trip with Sammy Hagar airs Sundays at 9 p.m. ET/8 p.m. CT.
Copyright © 2018, ABC Radio. All rights reserved.