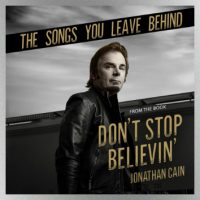 Identity Records/The Fuel MusicEarlier this month, Journey keyboardist Jonathan Cain published a memoir titled Don't Stop Believin': The Man, the Band, and the Song that Inspired Generations. Now the veteran musician has announced plans to release a new digital album as a companion to the book.
The Songs You Leave Behind, which arrives June 8, is a 19-track collection featuring two brand-new tunes, five unreleased recordings and 12 autobiographical songs that reflect stories and themes from Cain's memoir.
The album's title track, which is one of the new tunes, premiered today at Billboard.com. The piano-driven ballad, which features guitar work by Miles Schon, son of Journey guitarist Neal Schon, finds Cain reflecting on his legacy as a songwriter.
"It's just me saying you'll be remembered for the songs you leave behind," Cain tells Billboard. "As a songwriter and having the blessings and the success I've had, that's all I can hope for."
The other new tune on the album, "What Else Have I Missed," was co-written by Grammy-winning country songwriter Gary Baker and is dedicated to Jonathan's children.
Among the five archival unreleased recordings is "The Day They Became Angels," a song commemorating the fire at Cain's grade school that claimed the lives of 92 of his classmates. Jonathan debuted the tune at a 50th anniversary memorial mass held in 2008 at Holy Family Church in Chicago.
Some tracks on The Songs You Leave Behind are remastered versions of tunes that appeared on Cain's previous solo albums, 1995's Back to the Innocence and 2001's Anthology.
The audiobook edition of Jonathan's memoir features 20 songs.
Journey kicks off a lengthy North American tour with Def Leppard this Monday, May 21, in Hartford, Connecticut. The trek is mapped out through an October 6-7 stand in Inglewood, California.
Copyright © 2018, ABC Radio. All rights reserved.